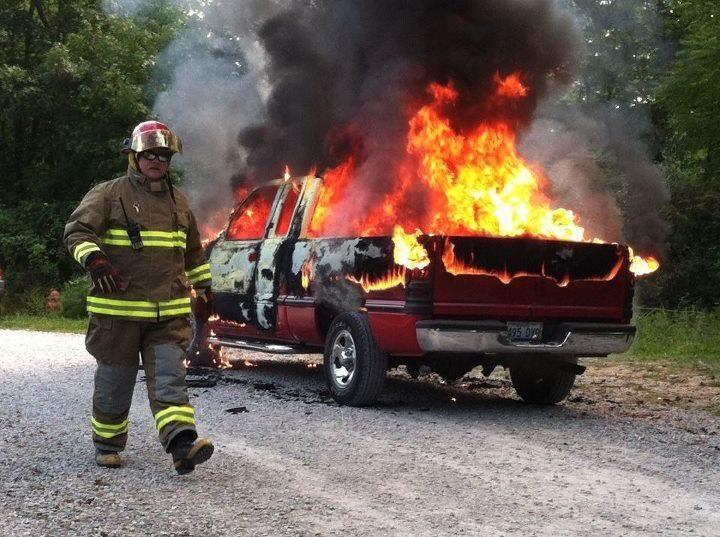 When you think of a hero, a person wearing a cape often comes to mind.  But there are those of us who see heroes in a different light; wearing combat boots and dog tags, a badge and a blue uniform, or sometimes in turnout gear and a helmet.  My hero is the latter - he is my brother.
Since my brother was 16 years old, he has had a love for helping the community, particularly through fighting fires, responding to the scene of an accident, searching for those who are missing, and when winter hits, he's one of the only ones willing to go out into the bitter cold to take someone groceries, medicine, and much-needed kerosene for heat.
He works full time as a dispatcher, he's a father of two, he's a great husband, and the most awesome brother a girl could ask for.
Even when he got really sick a few years back and had to step down for a few months until he got better (his heart was only functioning at 19% and he had to have a pacemaker put in), it didn't keep him down for very long.  He wanted to get back out there to help those in their moment of need.  That's just how he is.  That's who he is.  Always putting others before himself, that's my brother.
Many times over the years, I have seen him get out of bed even though he is completely exhausted after a long day at work, just because someone needed him.
During the holidays, he has left the table filled with turkey and the fixin's, because someone needed him.
On the rainiest, stormiest of nights, he has gone out to face fierce winds and terrifying threats of tornados, because someone needed him.
He's the bravest, most generous person I know, and right now, he needs us.
With another winter coming up quickly, his vehicle is in need of new tires so he can once again travel out into snow to help people who may be stranded at home and in need of food, medicine, or heat.  This is not a personal need.  This is for his community.  This is so he can continue to do what he loves doing.
He has  a GoFundMe set up for this exact cause, but there are other ways you can help him, too. 
I am currently offering my premade covers (ebook AND paperback) for $25.  I also have a graphics package of $10 that includes (3) teasers, (1) FB banner, and (2) 3-D graphics.  Please contact me on my graphics page if either of these interest you.
I am also running a promotion for IABB, where you can buy a $5 promotion package and get another one FREE for a friend.
You can buy a mug or t-shirt from the IABB swag shop and those funds will go towards this cause.
And lastly, you can donate via #ADollarFromTheHeart.  Send just $1 in the name of this cause and it will go straight to him.  To do this, send it to my paypal via friends & family, include #ADFTH in your note.  My paypal is [email protected]
If you've read this far, I thank you from the bottom of my heart.
My brother is my hero, and your support means the world to both of us.
Thank you. <3